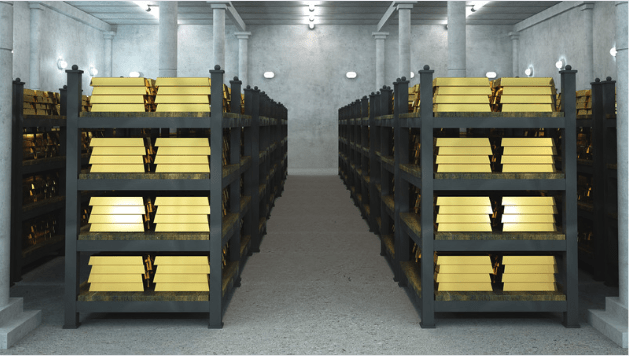 In our previous blog, we discussed how to invest in Gold and briefly discussed how to store and insure it. This week we will delve a little deeper into the various ways you can store your Gold securely once you have invested in it. 
There are three main ways you can store your Gold. At home, at the bank or in a secure vault. There are pros and cons for each option which we will discuss below. 
Storing Gold at home
Storing your Gold at home is the cheapest option, but it does come with its risks. If you plan to store at home, you need a home storage plan. It is always a good idea to tell one trusted person where you keep your Gold in your house. 
If you are investing in Gold to protect and preserve your family's wealth, it is a good idea to tell a trusted family member or friend where you are storing your Gold at home. If you become unwell or have a major accident, you have a trusted person who can get your Gold for you. If more than one person knows where your Gold is stored, then the risk of theft is increased, so it is essential to keep the storage place top secret. 
If you are storing your Gold at home, keeping your Gold investment activity secret would be beneficial, so you don't become a target. Don't talk to your friends about your investments or post about investing in Gold on social media. If you have kids, avoid talking to them about your Gold investments, as you don't know who they are talking to. If you own a large home, drive an expensive car and wear valuable jewellery, you could already be a target for thieves, so it would be better to look at other options for storing your Gold securely. 
If you are storing your Gold at home, it's essential to take out insurance to cover your Gold in case someone did attempt to steal it. 
Storing Gold in a bullion bank vault 
Storing your Gold in a bullion bank vault is a highly secure option for safekeeping. If you have it in a vault, it remains in your full ownership, and you can keep all of your valuables in one place. You also have the flexibility to sell your Gold or have it delivered to you. Most people who look at storing Gold in vaults are owners of large amounts of Gold; most vaults only accept a minimum of 1,000 oz. 
It costs money to store your Gold inside secure vaults, so that is something to bear in mind when looking for storage options. Also, vault storage usually comes with insurance, so always enquire about it when looking for vaults to store your Gold. 
Bullion bank vaults are usually located in major cities, so this option may not work for you if you live outside a major city. 
Storing Gold in a safe deposit box/consumer bank 
Storing your Gold in a safe deposit box at a local bank is one of the most common storage options. This type of storage is convenient and secure; however, you have to take out your insurance, and you can only access your Gold during the bank's opening hours. 
A bank like Halifax has three options for safe deposit boxes. The smallest option at £200 per year is perfect for jewellery and Gold coins. The second size, at £325 per year, is ideal for collections of valuables or important documents. Finally, the largest size is £475 per year and is used for single large items such as a valuable Gold bullion bar. 
If you want to invest in Gold, it is crucial to have a well-thought-out storage plan to keep your investment safe and secure. As mentioned above, there are three main ways to store your Gold, it will be down to you to determine which option works best for you, but we can always advise you if you have any further questions.