We are required to keep identification to comply with HM Revenue and Customs regulations.
When do J Blundell & Sons Require ID?
We will require ID for all orders no matter the value. However, if you have supplied ID within the last 12 months you do not need to resend it.
What identification is acceptable?
You must provide one item as Proof of Name and one item as Proof of Address. Please refer to the lists below for acceptable items.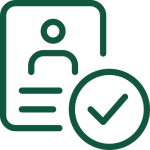 We accept the following forms for Proof of Name:
Passport
Full Driving Licence
National Identity Card
National Insurance card
Birth certificate
We accept the following forms of ID as a Proof of Address:
Phone bill
Other utility bill
Deeds
Tenancy lease
Council tax bill
Hotel key card (for non-UK residents only)
Please be aware: We don't accept credit card statements, mobile phone bills or provisional driving licence.
What happens to the ID I supply?
Identification we have requested from you is taken to verify your identity, in line with anti-money laundering guidelines. This information is not sold or used for remarketing. Information you provide is recorded by one our trained bullion dealers, in the performance of their duties only. For more information on how we keep and use your data, please visit our Privacy Policy.
Below are some links with helpful information regarding Money Laundering Regulations:
www.gov.uk/topic/business-tax/money-laundering-regulations
www.legislation.gov.uk/uksi/2007/2157/regulation/14/made
How our customers view our service
Pleasant staff, efficient and easy to deal with. Hope to visit again soon

Shane Holden


1 December 2022

Top service ,delivered the next day ,coin was as described,,great to deal with ,wish every firm was as efficient.

Steven Clinton


1 March 2023

1st time hooked, I'll be back

Michael Laing


18 March 2023

Good value, reliable and prompt.

Tali Bradley


1 March 2023

Slight hiccup with speed of payment going through meant gift purchase didn't arrive on time. Admittedly I left it late and tight for service but was told it would arrive... read more on time. Once everything sorted very helpful staff and speed of delivery from then was excellent. So yes I would recommend J.Blundell & sons.

Tim Lamb


1 March 2023

Very good service and cheaper than elsewhere. What else could you need. Thanks a lot

Saif Bora


1 March 2023

What a lovely company to deal with, totally professional but with the warmth of a good old fashioned family company. My issues with ordering online were dealt with immediately by... read more Reena and due to the customer service I received I am most definitely going to be back.

Melissa Biehl


1 March 2023

The team was incredibly friendly and helpful. Came out super satisfied. Got a great rate too

Hammad Hussain


1 April 2020

Always had efficient service and excellent communication from the team at Blundell & Sons

Patrick Welsh


4 June 2023

90 mile journey to get there and what a surprise, polite,sympathetic and very friendly we would highly recommend.

Peter Davey


10 May 2023

Little hiccup at first, a misunderstanding on my part. This was immediately attended to byJ Blundell & Sons. Excellent service, goods dispatched and arrived in good time.

Philip Bant


1 March 2023

Thank you, the item arrived quickly, Highly recommended.

Paul Bolton


20 May 2023

Really pleased with the service. Very patiently explained over the phone about how the postal delivery would work. Excellent 😊

gopali chakravorti-ghosh


1 January 2023

Dealt with J.Blundell recently. Not only did I get the highest price of all the shops I visited in Hatton Garden, but they were also straight talking and very knowledgeable.... read more They knew exactly what I was selling and paid the right price (market rate), no time wasted, will go again.

Can Atik


1 April 2022

Very friendly people and the best gold price too. Just go and visit, no need to call!!

Simon Cruden


1 April 2020