committed to protecting your privacy
This privacy policy describes how we collect and use your personal data.
J Blundell & Sons is committed to protecting your privacy, and at the same time we endeavour to use any data we collect from you to provide the best possible service.
This J Blundell & Sons site is a UK based website and takes reasonable care to comply with requirements of the UK Data Protection Act 1998 with regard to the personal information you supply on this site.
No data transmissions over the Internet can be guaranteed to be 100% secure we cannot ensure or warrant the security of any information you transmit to us and you do so at your own risk.
J Blundell & Sons may occasionally modify this Privacy Policy, such variations becoming effective immediately upon posting to the website and by continuing to use the website, you will be deemed to accept any such variations.
Please note that J Blundell & Sons may provide links to other sites, which may not be governed by this Privacy Policy and you should view the particular privacy policies of those sites for further information.
This explains how and why we acquire and use your personal information in accordance with Regulation (EU) 2016/679, the General Data Protection Regulation (GDPR).
We may collect information about you:
as part of your transaction with us and for the purposes of managing that transaction
from you, and/or from public records and from third parties but only with your consent
this may include your name, address, date of birth, contact details and we will retain your agreement history
We use your information to:
communicate with you by telephone, email, SMS, or post, using only the contact details you have provided
accurately manage your account
prevent crime (we may share information with law enforcement agencies or regulatory bodies where we are required to do so by law)
We use your data for the above purposes to fulfil our legitimate interest with you and where otherwise required, to comply with our legal and regulatory obligations. If you do not provide us with your personal information, regretfully, we will not be able to transact with you as this forms part of the information required.
We store your information:
within the European Economic Area (EEA) only
if we transfer data outside the EEA we will ensure that before we do so, there is adequate protection in place to ensure the security of your data.
with third parties, such as IT providers and auditors or similar.
We keep your information:
 for as long as it is needed to manage your account and for a maximum of seven years unless a different period is required by law.
access the information we hold about you
ask us to make any changes to your information to make sure it is accurate and up to date
ask us to stop or limit our use of, or to delete your information (we are not obliged to do this in relation to information we need as part of our contractual relationship)
receive your information in a format that suits you provided (such as word/excel etc.)
transfer your information from us to a third party
Data Collection Via Cookies
Cookies are small text files that are placed on your computer by websites that you visit. They are widely used in order to make websites work, or work more efficiently, as well as to provide information to the owners of the site.
We use Google Analytics to collect information about how visitors use the website. This measurement service enables us to monitor and improve how this website is used. These cookies collect your data anonymously.
We use cookies in some other ways which help us to provide you with a better website, by enabling us to monitor which pages you find useful and which you do not. They also enable us to provide our members with services such as access to member-only content or profile details. A cookie in no way gives us access to your computer or any information about you, other than the data you choose to share with us.
You can choose to accept or decline cookies. Most web browsers automatically accept cookies, but you can usually modify your browser setting to decline cookies if you prefer. This may prevent you from taking full advantage of the website.
The table below explains the cookies we use and why.
These cookies are used to collect information about how visitors use our site. We use the information to compile reports and to help us improve our site. The cookies collect information in an anonymous form, including the number of visitors to the site, where visitors have come to the site from and the pages they visited.
For Google's privacy policy in respect of Google Analytics click here. You may opt out of tracking by Google Analytics by clicking here.
If you have a question or would like to exercise your rights or make a complaint please contact our Data Protection Officer: Reena Kundra, by post at 25 St Cross St, London EC1N 8UH or by phone 020 7404 0744.
You also have the right to complain to the Information Commissioner's Office at Wycliffe House, Water Lane, Wimslow, Cheshire, SK9 5AF. www.ico.org.uk or by phone 0303 123 1113.
Melting & Assaying Services*
Complete our online form and then post your item(s) to us.
Complete our online quotation form and we'll provide an estimate on the amount we could possibly lend you.
Invest in gold & precious metals and receive FREE, insured delivery.
Have a question? Click here to read answers to those most commonly asked.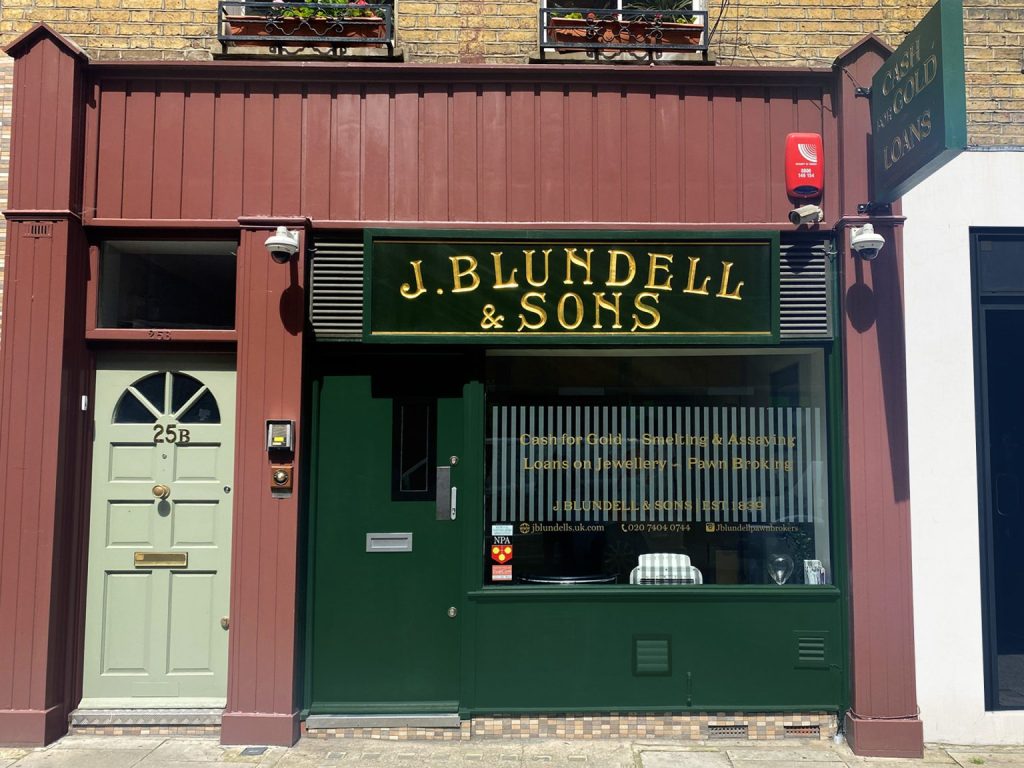 Why Buy With J Blundell & Sons?
*J Blundells & Sons are happy to provide advice on products that we feel meet with your investment needs but we are not authorised to provide investment advice. You should always seek independent financial advice.
** Please supply a date quote from competitor on their company header paper
***Items must pass testing for authenticity and will be priced on the day of being sold, at that day's gold rate. Daily rates are published here.
† We accept debit card payment for orders up to a value of £10,000 and Cash on Collection up to the value of £9,000.